In late October Kenya Airways launched daily nonstop flights between Nairobi and New York. The daily route didn't last long, and the flight is already down to 5x weekly frequencies (and I'd guess we'll see further reductions soon).
But arguably an even more aspirational airline right now is RwandAir, which is significantly smaller, and also has hopes of flying to New York.
RwandAir's New York route
RwandAir's desire to fly to New York was first revealed in November 2016, when RwandAir's CEO (at the time) said that he wanted the airline to start flying between Kigali and New York by 2019, using an Airbus A350.
Then last July the airline began the process of requesting the right to operate service to the US, with the intention of starting service by August 2018. The DOT granted the airline the necessary permission.
However, the route was delayed a bit, as the airline worked on obtaining the planes needed to operate the route. This past June, RwandAir signed 12 year leases for two A330neo aircraft, which they intend to use for the New York route. The airline is expected to take delivery of these planes in early 2019, and as of the summer said that the route should launch by June 2019.

View approaching Kigali
Well, there's now yet another update regarding this route.
RwandAir now intends to fly to New York via Accra
RwandAir's CEO has now revealed that the airline isn't in fact planning on flying nonstop from Kigali to New York, as reported by The East African. Instead, RwandAir intends to fly from Kigali to Accra to New York, so that they can serve both East and West Africa with the route.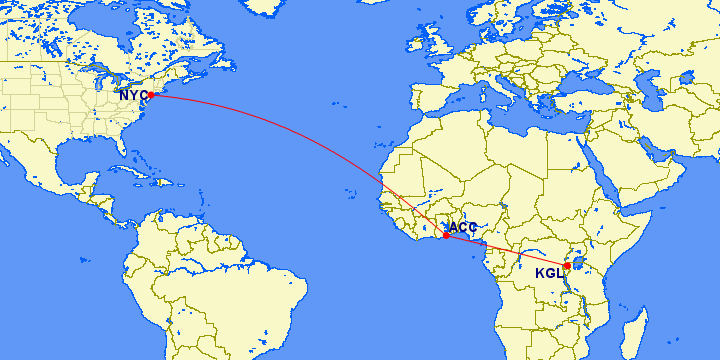 RwandAir's CEO has said that while they're still aiming for a June 2019 launch, it may be pushed back a little:
"We are still working around the June 2019 timeline, but it might be pushed back. It's going to be to New York, depending on which airport we get suitable slots. The FAA finalised the technical review a few weeks ago, so we are waiting for all the other processes to be completed."
The airline still plans to use an A330neo for the route, featuring business class, premium economy, and economy.
RwandAir A330 business class
On the New York to Accra route, RwandAir will be going head-to-head with Delta, which also operates the route, with a Boeing 767-300.
Bottom line
It seems like RwandAir sure is serious about this New York flight, and like it will in fact launch. Routing via Accra probably makes sense given what a "long and thin" route this otherwise is.
While RwandAir has connectivity to other points in East Africa, they're one of the smaller "big" players in Africa, so they do ultimately have fairly limited connectivity. They haven't scaled their route network like Ethiopian has, for example.
I'll be curious to see how many frequencies RwandAir tries to offer, and how long it lasts.
I really want to go to Rwanda to go gorilla trekking, and One&Only has recently openedtwo incredible-looking properties there.
–
Onemileatatime.com